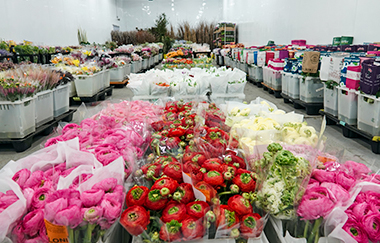 Shipping Policy
We will make every attempt to arrange delivery of a product on the requested day. Flowers are usually delivered by our fleet of delivery vehicles within 50 miles radius of our warehouse in Silver Spring, Maryland. Delivery addresses outside of this area are served via FedEx and UPS delivery service.
The delivery charge via our vehicles is $15.00 with a $200 minimum purchase. Purchases under the minimum amount can be picked up at our warehouse, or will be shipped via FedEx overnight or UPS ground service. These carrier's delivery charges depend on the weight and location where the flowers are being shipped. Please note that despite our aggressive discount package through FedEx and UPS — which savings will be passed on to our customers — the overnight delivery charges are high: they may reach 50% of the price of the flowers ordered.
FedEx and UPS overnight shipments will arrive Tuesday through Saturday only. To find out if Saturday service is available in your area, or if you would like to receive more information about the available delivery options, please free to contact us at 1–800–770–8353.
As most merchandise purchased from this website is pursuant to a shipment contract, the risk of loss and title for these orders pass to the buyer upon the pickup made for the merchandise by the shipping carrier. Please note that our shipping carriers do not telephone prior to delivering packages, and we cannot guarantee the time of delivery.
Potomac Floral Wholesale cannot take responsibility for interruptions or delays due to the following:
forces of nature beyond reasonable control, such as acts of God, acts of any government, war or other hostility, civil disorder, the elements, fire, explosion, power failure, equipment failure, inability to obtain necessary supplies, industrial or labor dispute, etc.,
national or local disruptions in air or ground transportation,
incorrect address and/or zip code provided by the sender,
unsuccessful deliveries due to the recipient not being present at the time of delivery supplied by the sender,
decreased product quality due to an incorrect address or re–routing request provided by the sender,
product quality problems due to improper handling by the recipient.
Cancellation Policy
We will do our best to accommodate your requests if you wish to cancel or change your order.
Orders cannot be cancelled, edited, changed within seven (7) days of the requested delivery date.
We reserve the right to forfeit deposits on orders that are changed or cancelled.
Return Policy
Returns are handled on an individual basis. Please contact us at 1–800–770–8353 or via e–mail at esale@flowerwholesale.com to report any problems with your order.
Any claims arising from unsatisfactory quality of stock must be reported within the timeframes specified in the Terms and Conditions set forth on the invoice and held for advice as to disposition. Beyond those timeframes materials shall be deemed to be accepted in good condition. Potomac Floral Wholesale, Inc. will not consider ay claims that arise after delivered materials have been processed, stored improperly, transplanted, or otherwise altered. All return requests must be reported within 24 hours of receiving the product.
All products must be returned to be considered for credit. We will not issue any credits for merchandise that has not been returned to us.
In unique situations (due to the high shipping costs) we may grant special permission to submit pictures of the damaged product clearly showing impairments to the item. In these instances, the pictures must be taken and e–mailed to us the following way:
We must receive the pictures showing the damages within 8 hours of the delivery of the product.
Proof of purchase must be shown on the picture together with the damaged item. Proof of purchase may include either the invoice included with your shipment, or the packaging showing our shipping label.
Once we receive the pictures and a brief description of your request (please include your order number), we will investigate your claim and determine the validity and the value of the credit. We reserve the right to deem products shown on the pictures satisfactory and decline the issuance of any credit.
Please note that processing your return may take up to 10 business days.
Refunds granted will be issued for the purchase price of the product only and to the credit card used at the time of the purchase. SHIPPING CHARGES CANNOT BE REFUNDED.