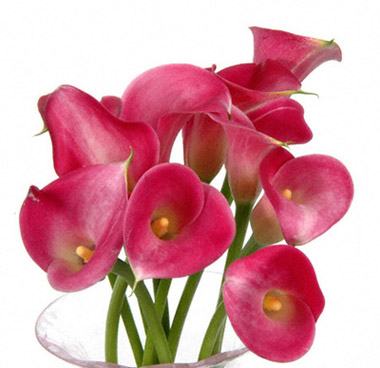 This website is operated by Potomac Floral Wholesale, Inc.
PLEASE READ THE FOLLOWING TERMS AND CONDITIONS CAREFULLY BEFORE USING THIS WEBSITE. YOUR USE OF THIS WEBSITE IS GOVERNED BY THESE TERMS AND CONDITIONS AND INDICATES THAT YOU AGREE WITH AND ACCEPT ALL OF THE TERMS AND CONDITIONS CONTAINED ON OUR WEBSITE. THIS SALE AGREEMENT IS A BINDING LEGAL CONTRACT BETWEEN THE CUSTOMER AND POTOMAC FLORAL WHOLESALE, INC.. IF YOU DO NOT AGREE WITH ANY OF THESE TERMS AND CONDITIONS, PLEASE DO NOT USE WWW.FLOWERWHOLESALE.COM.
We may amend the Terms and Conditions at any time, without prior notice, by posting the amended terms on the website. Your use of this website following any such change constitutes your agreement to follow and be bound by the Terms and Conditions as changed. Therefore, we recommend you to review these Terms and Conditions whenever you use our website.
Intellectual Property Rights
All materials appearing on our website, including text, site design, graphics, logos, icons, images, sounds, videos, typefaces, data, photographs, information, software and other material (collectively "Content"), as well as the selection, assembly and arrangement thereof, are the sole property of Potomac Floral Wholesale, Inc., © 1998–2010, ALL RIGHTS RESERVED. You acknowledge that all Content is protected by copyrights, trademarks, trade secrets, or other proprietary rights and that these rights are valid and protected by U.S. and international laws.
You may view, download, electronically copy and print hard copy portions of this site for the sole purpose of placing an order with Potomac Floral Wholesale, Inc., or only for your own non–commercial use as permitted by the fair use privilege U.S. copyright laws. Except as expressly provided above, any use including but not limited to, download, upload, copy, print, display, perform, reproduce, distribute, transmit, republish, modify, license or post any information from our website, in part or in whole, is strictly prohibited without written permission. If you wish to obtain an authorization, please e–mail us at esales@flowerwholesale.com. All rights not expressly granted herein are reserved.
If you notice any offensive or infringing materials on our website, please contact us at esales@flowerwholesale.com so that we can investigate. It is our policy to remove all materials from our website that are infringing or offensive.
Potomac Floral Wholesale reserves the right at our sole discretion to block or remove communications or materials and revoke the privileges of any users of this website who abuses the terms and conditions as described.
Registered Accounts
Accessing certain parts of this website requires registration and the selection of a unique password. If you choose to register, it is your responsibility to maintain the confidentiality of the password and the account, and you are fully responsible for any and all activities that occur through the use of that password.
Furthermore, you must represent and warrant that the registration information you provide on www.flowerwholesale.com is complete and accurate and that you will inform Potomac Floral Wholesale of any changes to your registration information, or if you suspect any unauthorized use of your password.
By registering to purchase merchandise on our website you are representing that you are
at least 18 years old,
the credit card used for purchases is valid and you have full authority to use it to submit an order through this website.
We reserve the right to refuse service, decline or cancel orders, terminate accounts, and remove or edit content at our sole discretion. Orders may need additional verification or information prior to acceptance.
Payment Options
Terms of payment are within Potomac Floral Wholesale's sole discretion. Payments on invoices are due immediately, unless prior arrangements have been made. We may invoice parts of an order separately. We generally accept cash, Visa, MasterCard, Discover, American Express and Diners Club credit cards, company checks, money orders, cashiers checks, and company purchases on approved credit. Please contact an account representative for credit approval at 1–800–770–8353.
We reserve the right to charge your credit card for a full deposit at the time the order is placed with us. Credit card orders shipped to a location other than your billing address may require additional verification.
Past due balances incur a 1.5% per month finance charge. Accounts that become past due may be placed in "Cash On Delivery" status. Such COD accounts may also be subject to larger deposits if futures orders are accepted. Payments received on any account will be allocated at our discretion. Any payment received from a customer with a past due balance will be allocated first to finance charges (if applicable), then to service charges (if applicable), then to the oldest balances.
We do not accept post dated checks. Any checks returned to us for insufficient funds will be assessed a $50.00 service charge. We reserve the right to perform credit checks on new accounts in order to determine credit–worthiness. Sales tax is collected on orders without the applicable Tax Certificate on file with us. All prices are quoted in U.S. currency and all orders must be paid in the same currency.
Accuracy of Information
Our goal on www.flowerwholesale.com is to be as accurate as possible. However, Potomac Floral Wholesale cannot and does not warrant that the product descriptions, pictures, prices, stock–quantity, or any other content on the website is complete, current, or error–free. In the event that a product is listed with a typographical error, incorrect price, or incorrect information due to an error, we reserve the right to refuse or cancel any orders placed for products listed with the incorrect information. We will contact you if such mistake is discovered to discuss the available options and/or issue credits for any credit card charges already completed.
We reserve the right to change the availability, minimum order quantity, and pricing of our products, without prior notice, at any time.
Due to the nature of our business, products may vary slightly due to availability, product variety, changing crops, market conditions, weather, local traditions, craftsmanship, and Mother Nature. We cannot and do not take responsibility for these variations.
Please note that due to varying monitor settings, product colors may not be accurately displaying on your computer.
Pricing and Availability
Potomac Floral Wholesale, Inc. is a flower wholesale company. Our website, catalog, special offer, availability list, and order forms are intended for those engaged in the business of buying and selling wholesale flowers, plants and supplies.
We will make every attempt to ensure that our orders are delivered as ordered; however, due to the nature of our business
Our prices are subject to availability and can change on a daily basis without notice,
Our quotes are estimates and are also subject to availability, price changes, and can change on a daily basis without notice,
Due to the perishable nature of our products, we cannot guarantee the quality of the items that are ordered from us, and
There may be variations in advertised stem counts/bunches depending on the grower.
We cannot be held responsible for these variations.
Any order is subject to cancellation if the materials ordered are lost or damaged due to flood, drought, fire, frost, hail, contamination, errors in the inventory or count or any other cause or act of God beyond our control. Any discount appearing on an invoice or acknowledgement is discretionary and shall never be deemed as constituting a continuing discount. All prices are in U.S. funds and are FOB Silver Spring MD. Shipping charges or boxing costs, where incurred, are invoiced at our cost. Buyer assumes all shipping expenses. Buyer accepts full risk of any losses during shipment.
Warranty Disclaimer
This website and the products therein are provided on an "AS IS" and "AS AVAILABLE" basis, without representations or warranties of any kind either expressed or implied, to the fullest extent possible pursuant to the applicable law. Potomac Floral Wholesale does not warranty that our site or any services offered on our site will be uninterrupted or error–free. We specifically disclaim all expressed or implied, including, but not limited to, implied warranties of merchantability, title, non–infringement, fitness for a particular purpose or use, or other violation of rights. You expressly agree that the use of this site is at your sole risk.
Technical Advice
It is expressly understood that any technical advice furnished by Potomac Floral Wholesale with reference to the use of its products is given at gratis and as a courtesy. Potomac Floral Wholesale assumes no obligation or liability for the advice given or results obtained and all such advice being given and accepted at Buyer's risk.
Limitation of Liability
You agree that under no circumstances shall Potomac Floral Wholesale, or any of its officers, associates, employees, representatives, designers, contractors, distributors, merchants, sponsors, successors, agents, or third–party content–providers, be liable for any direct, indirect, incidental, special, or consequential losses or damages related to products sold, content, services, or the use, or inability to use, of our website. You expressly agree that this limitation of liability is comprehensive and applies to damages of all kind, including but not limited to, general, special, exemplary, direct, indirect, compensatory, consequential, punitive, incidental, or otherwise, damages for loss of business profits, income, revenues, data and use, information, or any other pecuniary loss, arising of the use of your access to, and use of the information made available on www.flowerwholesale.com.
If applicable law does not allow the limitation of liability set forth above and this limitation of liability does not apply to you, or if it is found to be invalid or unenforceable for any reason, then the aggregate liability of Potomac Floral Wholesale shall not exceed one hundred dollars ($100).
Indemnity
You agree to indemnify and hold Potomac Floral Wholesale and any of its officers, associates, employees, representatives, designers, contractors, distributors, merchants, sponsors, successors, agents, or third–party content–providers harmless from any and all liability, claims, loss or demand, including without limitation reasonable attorneys' fees and expenses, resulting from your use of our website in violation or breach of these terms and conditions.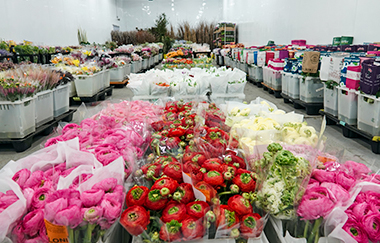 Shipping Policy
We will make every attempt to arrange delivery of a product on the requested day. Flowers are usually delivered by our fleet of delivery vehicles within 50 miles radius of our warehouse in Silver Spring, Maryland. Delivery addresses outside of this area are served via FedEx and UPS delivery service.
The delivery charge via our vehicles is $15.00 with a $200 minimum purchase. Purchases under the minimum amount can be picked up at our warehouse, or will be shipped via FedEx overnight or UPS ground service. These carrier's delivery charges depend on the weight and location where the flowers are being shipped. Please note that despite our aggressive discount package through FedEx and UPS — which savings will be passed on to our customers — the overnight delivery charges are high: they may reach 50% of the price of the flowers ordered.
FedEx and UPS overnight shipments will arrive Tuesday through Saturday only. To find out if Saturday service is available in your area, or if you would like to receive more information about the available delivery options, please free to contact us at 1–800–770–8353.
As most merchandise purchased from this website is pursuant to a shipment contract, the risk of loss and title for these orders pass to the buyer upon the pickup made for the merchandise by the shipping carrier. Please note that our shipping carriers do not telephone prior to delivering packages, and we cannot guarantee the time of delivery.
Potomac Floral Wholesale cannot take responsibility for interruptions or delays due to the following:
forces of nature beyond reasonable control, such as acts of God, acts of any government, war or other hostility, civil disorder, the elements, fire, explosion, power failure, equipment failure, inability to obtain necessary supplies, industrial or labor dispute, etc.,
national or local disruptions in air or ground transportation,
incorrect address and/or zip code provided by the sender,
unsuccessful deliveries due to the recipient not being present at the time of delivery supplied by the sender,
decreased product quality due to an incorrect address or re–routing request provided by the sender,
product quality problems due to improper handling by the recipient.
Cancellation Policy
We will do our best to accommodate your requests if you wish to cancel or change your order.
Orders cannot be cancelled, edited, changed within seven (7) days of the requested delivery date.
We reserve the right to forfeit deposits on orders that are changed or cancelled.
Return Policy
Returns are handled on an individual basis. Please contact us at 1–800–770–8353 or via e–mail at esale@flowerwholesale.com to report any problems with your order.
Any claims arising from unsatisfactory quality of stock must be reported within the timeframes specified in the Terms and Conditions set forth on the invoice and held for advice as to disposition. Beyond those timeframes materials shall be deemed to be accepted in good condition. Potomac Floral Wholesale, Inc. will not consider ay claims that arise after delivered materials have been processed, stored improperly, transplanted, or otherwise altered. All return requests must be reported within 24 hours of receiving the product.
All products must be returned to be considered for credit. We will not issue any credits for merchandise that has not been returned to us.
In unique situations (due to the high shipping costs) we may grant special permission to submit pictures of the damaged product clearly showing impairments to the item. In these instances, the pictures must be taken and e–mailed to us the following way:
We must receive the pictures showing the damages within 8 hours of the delivery of the product.
Proof of purchase must be shown on the picture together with the damaged item. Proof of purchase may include either the invoice included with your shipment, or the packaging showing our shipping label.
Once we receive the pictures and a brief description of your request (please include your order number), we will investigate your claim and determine the validity and the value of the credit. We reserve the right to deem products shown on the pictures satisfactory and decline the issuance of any credit.
Please note that processing your return may take up to 10 business days.
Refunds granted will be issued for the purchase price of the product only and to the credit card used at the time of the purchase. SHIPPING CHARGES CANNOT BE REFUNDED.